(Louis Meulstee's web site)

Return

Return
First published August 2012 by Louis Meulstee, Ottersum, Holland.
ISBN 978 90 819271 2 3
'Foreign Equipment Data Sheets' was a series of 15 different German Army publications providing principal data on enemy equipment ranging from small arms, heavy weapons, ammunition and vehicles, to communication equipment. They were compiled by the German high command, based on captured equipment and handbooks, but also from various (commercial) documents and journals, and issued to the German Forces as a guide to the reuse of the equipment. Original and complete copies are rare.
Preview pages WftW Compendium 4
The table of contents and a number of selected pages from Compendium 4 can be downloaded as pdf's from the Downloads page. Please keep in mind that the printed size of the pages is in A5 format, the original size of the book.
See Chris Jones' 'Breaking the Fraktur Code' (or "A Non – German Reader's Guide to Understanding Wireless for the Warrior Compendia 3 & 4")
Read the review by the late Alister Mitchell, GM3UDL, originally published on the website of the Wireless Set No. 19 group Royal Signals.
Read the review of Compendiums 2-5 by Chris Jones, G8GFB, in 'Signal', the Journal of the VMARS, Issue 25, November 2012.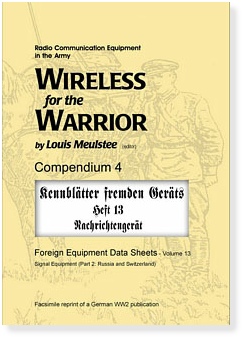 To Compendium 5


WftW Compendium 4 is only available direct from the 'Print On Demand' printing company lulu.com via the Internet WftW Bookshop at www.lulu.com/spotlight/wftw
(It is advisable to read 'Where to obtain the WftW books')

Wireless for the Warrior Compendium 3 and 4 ('Foreign Equipment Data Sheets' contains a facsimile reprint of the German World War 2 publication entitled 'Signal Equipment' ('Nachrichtengerät'), also known as D50/13. The publication was Volume 13 in the 'Foreign Equipment Data Sheets' ('Kennblätter fremden Geräts'), a series of German Army publications providing data on enemy equipment, principally from Belgium, England, France, North America, Russia and Switzerland. It was first issued to the German forces in July 1940, completely revised in 1941, with supplements issued in 1941, 1942 and 1943.
For practical reasons the reprint was split into two parts: Compendium 3 covering the Belgian, English, French and North American sections containing 225 different signal instruments in 474 pages, and Compendium 4 with the Russian and Swiss sections, containing 171 different signal instruments in 364 pages. For English-speaking readers an English introduction, table of contents, glossary and translation of original German sample pages are provided.
The facsimile reprint represents the D50/13 publication as it was used issued and updated, including all supplements, of which the last was issued in November 1943.

Read the review of Compendiums 3-5 by Werner Thote, DL1VHF, (German language) in 'Funkgeschichte', Fachmagazine fur Interessierte der Geschichte des Funkwesens, Oct/Nov 2013.