(Louis Meulstee's web site)



Quite a number of years ago an SSF Mk.II transmitter-receiver was donated to the Amateur Radio Museum 'Jan Corver', located in Budel, The Netherlands. At that time nobody could identify the set and its function, and up to the present day it remains to be a mystery. Having a strong resemblance to Wireless Set No. 18, of which indeed many parts were used, it appears that the SSF Mk.II was probably produced in a small quantity from parts at the time of production readily available on the surplus market. The nameplate on the transmitter front panel indicates serial number 52. (Go to the Wireless Set No. 18 page for a front panel view of the original Army No. 18 Set)

With the exception of the original No. 18 Set receiver unit, the mechanical and electrical construction and quality of the set was of a non professional standard. The manufacturer of the set was M.I.C.O. Co. Ltd in London, investigation to trace this company led to no results. Its function is still not very clear and the model or type name "SSF" suggest it might be used as a Seismic Shot Firing transmitter in combination with a special receiver and decoder.
Some people suggested that the set might be a fake or a prototype considering the rather odd choice of components.
Technical details
The SSF Mk.II was a self contained set, comprising a separate receiver, transmitter and mains/vibratory supply unit. It was enclosed in a plywood case with metal edge reinforcements; a 30ft wire aerial, headphones and mains lead were stowed in the lid. The frequency range covered 6-9 MHz.
The transmitter was crystal controlled using two switchable type FT-243 crystals fitted in sockets on the front panel. Two valves were used, an EF50 as crystal oscillator and 6V6GT RF power amplifier. RF output is not known, but estimated about just a few watts. The system used was CW only, with the Morse key fixed mounted on the front panel of the transmitter unit.
Power supply input was 100-250 V AC mains or 12 V DC.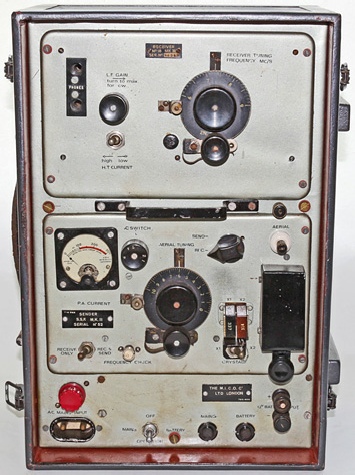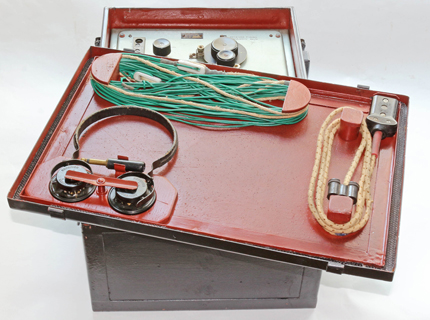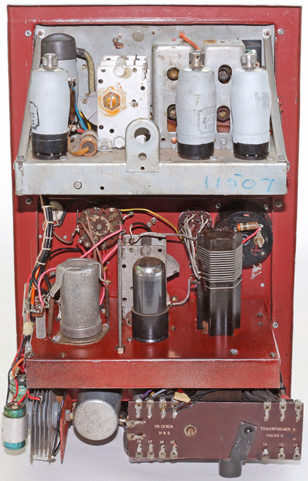 The SSF Mk.II is still in the collection of the Dutch Amateur Radio Museum "Jan Corver". Anyone who may be able to provide more details on this set is kindly asked to contact the museum curator Cor Moerman PA0VYL (ws19 'at' iea 'dot' nl).
General view of SSF Mk.II installed in its case and protective lid with aerial wire, headphones and mains lead. (above)
Detail pictures of the SSF Mk.II. Click to enlarge for a better view.
Chassis view of SSF Mk.II. (Left)
Note that the receiver section (top) was a virtually unmodified receiver section from Wireless Set No. 18, still having its original 2 V battery valves. Both receiver and transmitter units were fixed to the main front panel on which also the power supply unit was mounted. In the transmitter the RF tank coil and many other parts from a No. 18 Set transmitter unit were used, along with a RAF T1154 panel meter. A new transmitter chassis and front panel was constructed having similar dimensions as the original No. 18 Set transmitter unit.